Business Insurance
James W. Goodacre II offers small and large businesses ways to secure the most comprehensive health, dental, disability and vision insurance coverages for your employees. We can assist you with 401(k) plans as well. When it comes to worker's compensation insurance we are able to identify the best value plans for your business. You will save time as we guide you through the various options in today's market.
Whether you are looking for insurance, retirement products and services or investments, part of what you'll need to manage is the unexpected — like maintaining business continuity during a disability of yourself or one of your employees, or upon the death of a business partner. As a business owner you may find these insurance products a useful way to protect you and your companies interests: Business Overhead Policy, Disability Buy-Sell, Business Reducing Term Disability, and Retirement Protection Plus Disability.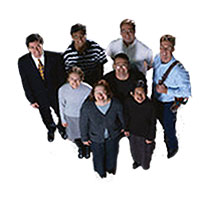 Learn more about some of the common business insurance products you will want to have.
Business Overhead Policy
Business Overhead Expenses Protection provides a cash solution to the business upon the disability of the insured owner to cover routine business expenses. This policy reimburses the owner for covered business overhead expenses up to a specified limit on a monthly basis during disability. The policy can help assure the company employees that — in the event of the owner's disability — the business will continue to operate and their jobs will be secure.

Disability Buy-Sell
Disability Buy-Sell agreements and their funding are critical to a smooth transition of business ownership from one party to another. As a business owner, a buy-sell agreement provides a ready market for what is typically an asset without a public market. Without a buy-sell agreement, a deceased business owner's estate may be stuck with an illiquid business interest that may not be easily sold. A buy-sell agreement, properly funded with life insurance, is an ideal alternative to insure the business owner's illiquid business interest is converted to cash for the family.

Business Reducing Term Disability Insurance
Business owners who borrowed money in order to expand their businesses will benefit from a Business Reducing Term Policy. This type of policy will insure up to 100% of monthly loan payments—principal and interest, provided the obligation rests with a single principle—should a business owner become totally disabled.
As long as the business can operate, any loans the business owner(s) took out will be repaid from the earnings of the business. If they die, life insurance can pay. But if they become disabled due to sickness or injury and can't work, their business assets could be lost due to loan forfeiture.
In addition to loan payments, other applicable client scenarios include business owners who offer guaranteed employment contracts to their employees and those who've purchased a business or professional practice with an amount payable to the seller over a specified period.
Through Business Reducing Term Disability insurance, business owners can insure against a disability preventing them from meeting such fixed payment obligations as:

The funding of medium term loans dependent upon the business talents of a key individual for their repayment;

Purchase agreements;

Salary contract guarantees; and

Contract performance guarantees.

Retirement Protection Plus Disability Insurance
Retirement Protection Plus Disability insurance allows an individual disability policy to cover not only the employee's contributions to a defined-contribution plan but also the employer's matching contribution if the worker becomes totally disabled. This is an excellent financial instrument for highly paid business owners, key executives, lawyers and physicians who want to increase their disability coverage.
If you have questions contact me via email James Goodacre, or call us at 831-626-9250. We can discuss the various business insurance plans and/or employee benefit plans that provide the best value for your employees and the business owner.